PhD Position ROBOT COMMUNICATION EVOKING AFFECTIVE BONDING @my lab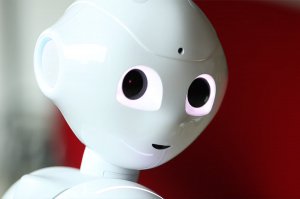 If you want to take on this challenge and be part of an exciting team working as a PhD on the Theory of Identity, Reference & Perspective (TIRP) on the forefront of communicating machines, please apply at the Vrije Universiteit Amsterdam.
You will build and investigate computational robot models that dynamically personalise communication to make it more efficient and to improve affective bonding of people with robots.
PHD POSITION Subproject-2: Robot Communication evoking Affective Bonding: PhD2 investigates through quantitative tests and refining the Theory of Identity, Reference and Perspective (TIRP) with robots across various scenarios, combining Big Data models with optimization of personalized data obtained through relation-based language models.
YOUR DUTIES
create and test adaptive communication models for robots within social contexts
carry out your research according to international standards resulting in a PhD dissertation
at least one publication per year in an A or B ranked journal or conference proceedings
make your research and experiments publicly available and reproducible.
REQUIREMENTS
master degree in (Computational) Linguistics, Computer Science or Artificial Intelligence
knowledge of and experience with programming in Python
knowledge of and experience with Natural Language Processing
The research is embedded in the Computational Lexicology and Terminology Lab (http://cltl.nl), which is one of the world's leading research groups in Human Language technology. Prof. dr. Piek Vossen, recipient of the NWO Spinoza Prize, heads the group of international researchers that are working on ground-breaking projects, among which the Spinoza project 'Understanding Language by Machines: http://www.understandinglanguagebymachines.org. Within that framework several PhDs are working on the Leolani project, with which the PhD will also collaborate: http://makerobotstalk.nl.
Finally, CLTL and the research you are involved in is also embedded in the VU-gravity project on Hybrid Intelligence: https://www.hybrid-intelligence-centre.nl. You will collaborate with many researchers on key notions such as collaborative, explainable, adaptable and responsible AI.
APPLICATION:
Are you interested in this position? Please apply via the application button at the VU-site and upload your curriculum vitae and cover letter until 1 May 2020.
Location: AMSTERDAM
FTE: 0.8 – 1
JOB DESCRIPTION